>

Autumn Pumkin Revitalizing Skin Cleanser
Autumn Pumkin Revitalizing Skin Cleanser
SKU:
Revitalize your skin this autumn with a nutrient rich facial cleanser made with pure ingredients formulated to feed and nourish your skin cells without any added bio engineered chemical ingredients.

Precise directions and a measuring dispensary cup shall be included
This set is revitalizing using vitamin A, C, and E from harvest foods of carrots, beets, and pumpkin to naturally exfoliate without damage and nourish your skin cells. Papaya leaf and milk acids are natural humectants and powerful exfoliants to soften and remove dead skin. This formula also detoxes and strengthens using a mineral clay blend.

Autumn Pumpkin Revitalizing Cleanser: organic pumpkin, organic vegetable glycerin, raw honey, aloe vera juice, organic apple cider vinegar, herbal extracts, organic herbal extracts, organic essential oils, baby foam, plus a little magic!

​www.royalnubianskincare.com



Powered by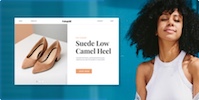 Create your own unique website with customizable templates.